Bread Game
A downloadable game for Windows
About
Bread Game is a high-speed simulation game about delivering bread to your fellow townsfolk under the moonlight. Pick up loaves at the local bakery (or bakeries) and distribute your bounty as efficiently and swiftly as possible. A number will appear above each household signifying how many loaves of bread are awaited for delivery. Continue to supply the goods, because households waiting too long for a maximum order of 10 loaves will cause you to game over. Also be sure to keep track of the time, as each run only gives you a couple short minutes to satisfy your customers' demands.
Controls
ARROW KEYS - move / navigate menus
Z - interact / select
TAB - toggle full screen
SPACE - pause / unpause game
ESC - exit level (from pause menu)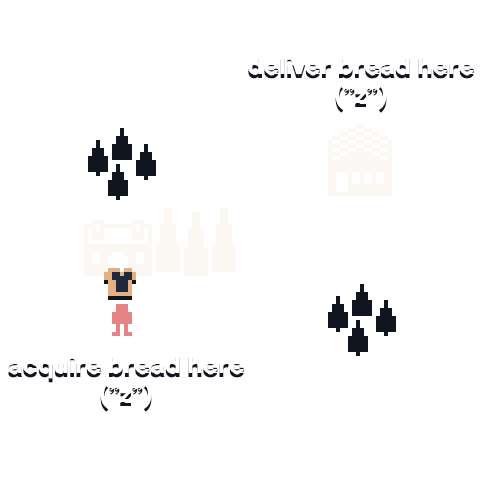 Note
This game originally began as a light joke, intending to help address the apparent shortage of bread-themed computer games. Nevertheless, I'm happy to put it out there to the world, and I hope you enjoy your time with it. Please feel free to reach out and provide feedback over on Twitter! Enjoy.

Also available on